TUO Circadian Smart Products
CIRCADIAN LIGHT THERAPY THAT WORKS IN THE REAL WORLD
TUO Circadian Smart Products are the most effective light therapy solution on the market today. TUO's patented, laboratory-tested technology, developed by the University of Washington, has been proven to be more effective than today's industry-leading light therapy solutions, and it works at normal light levels.
Join us on our journey to sharper focus, improved mood, more energized days and better sleep.
Get started today!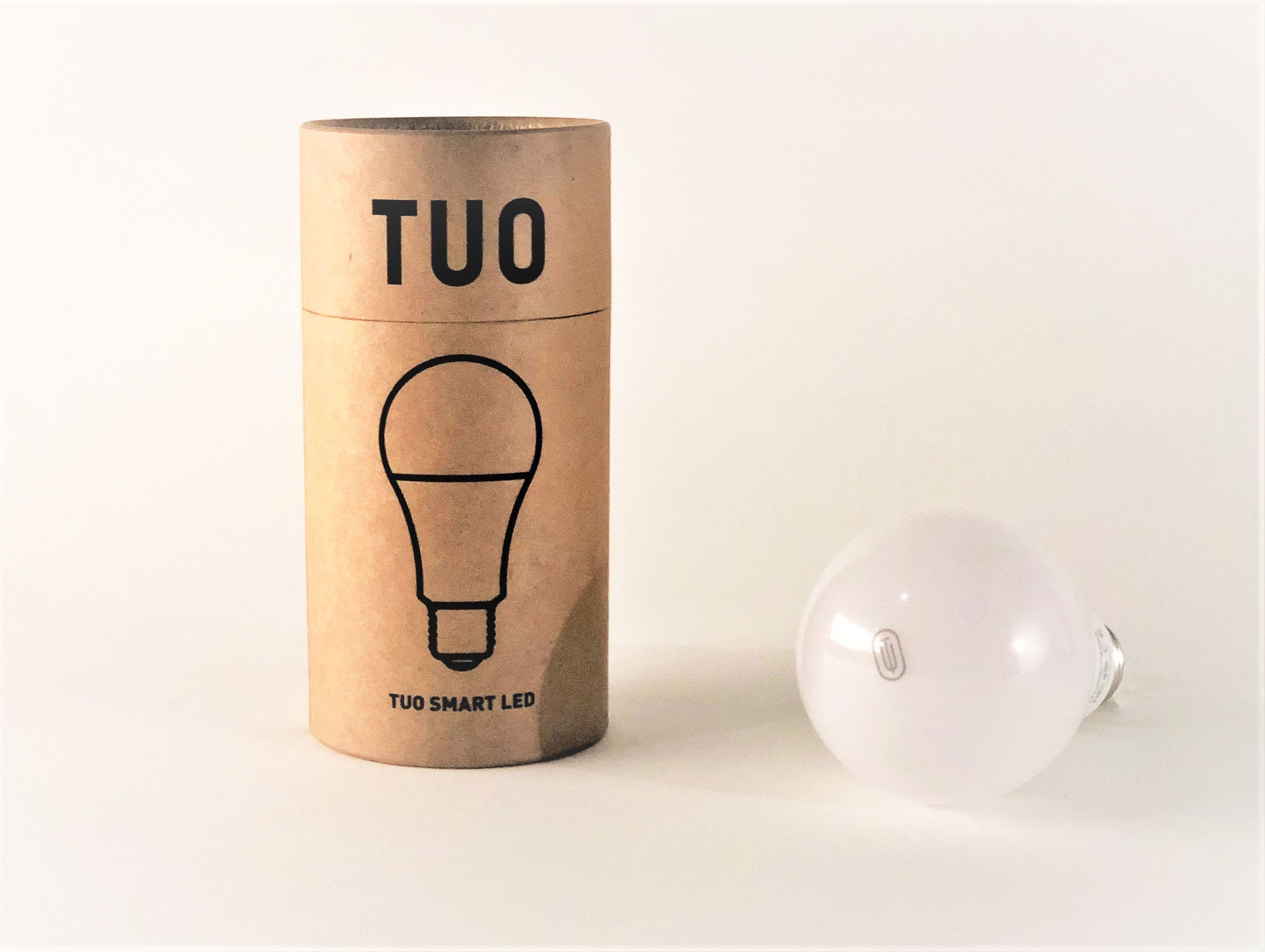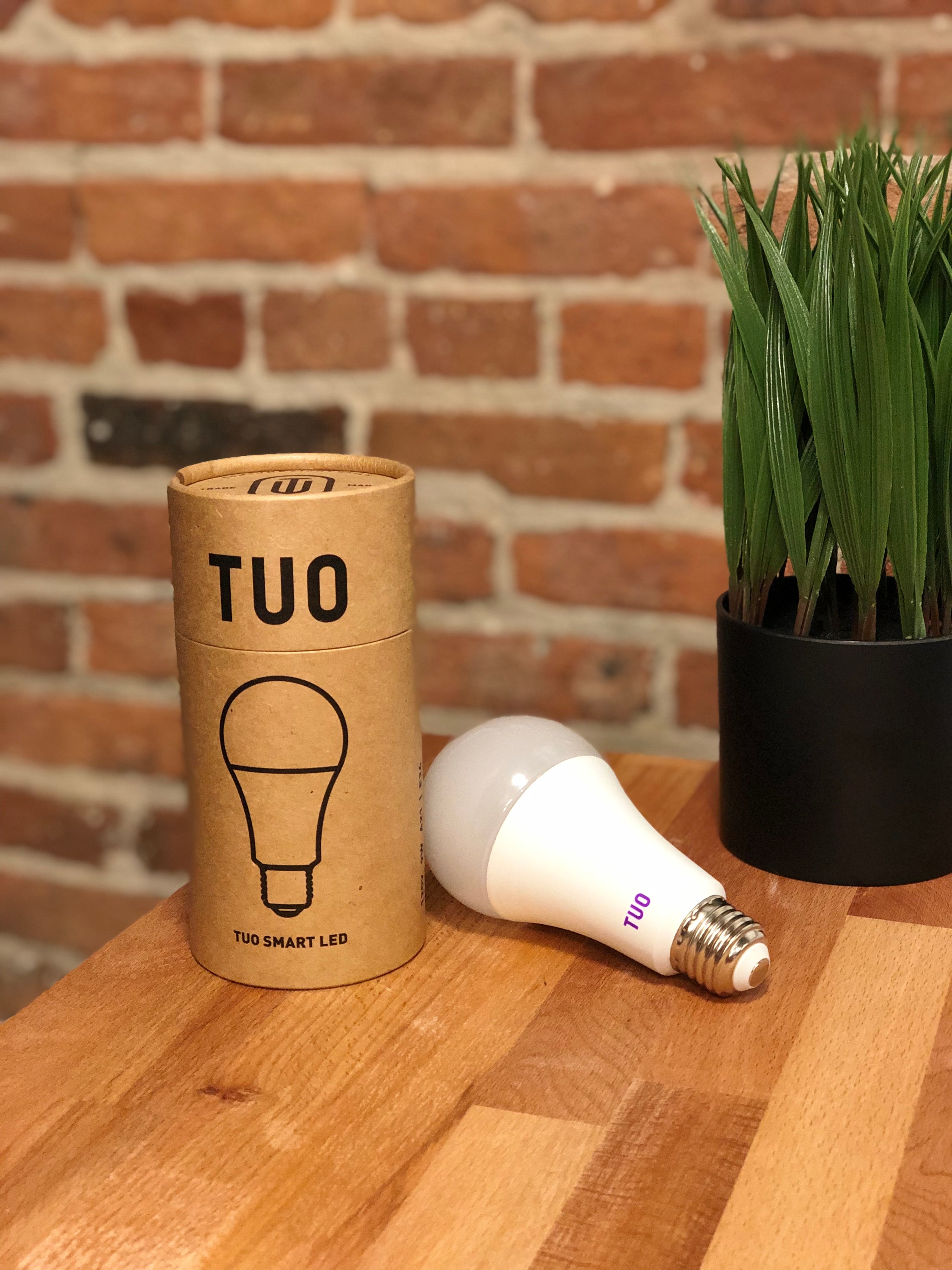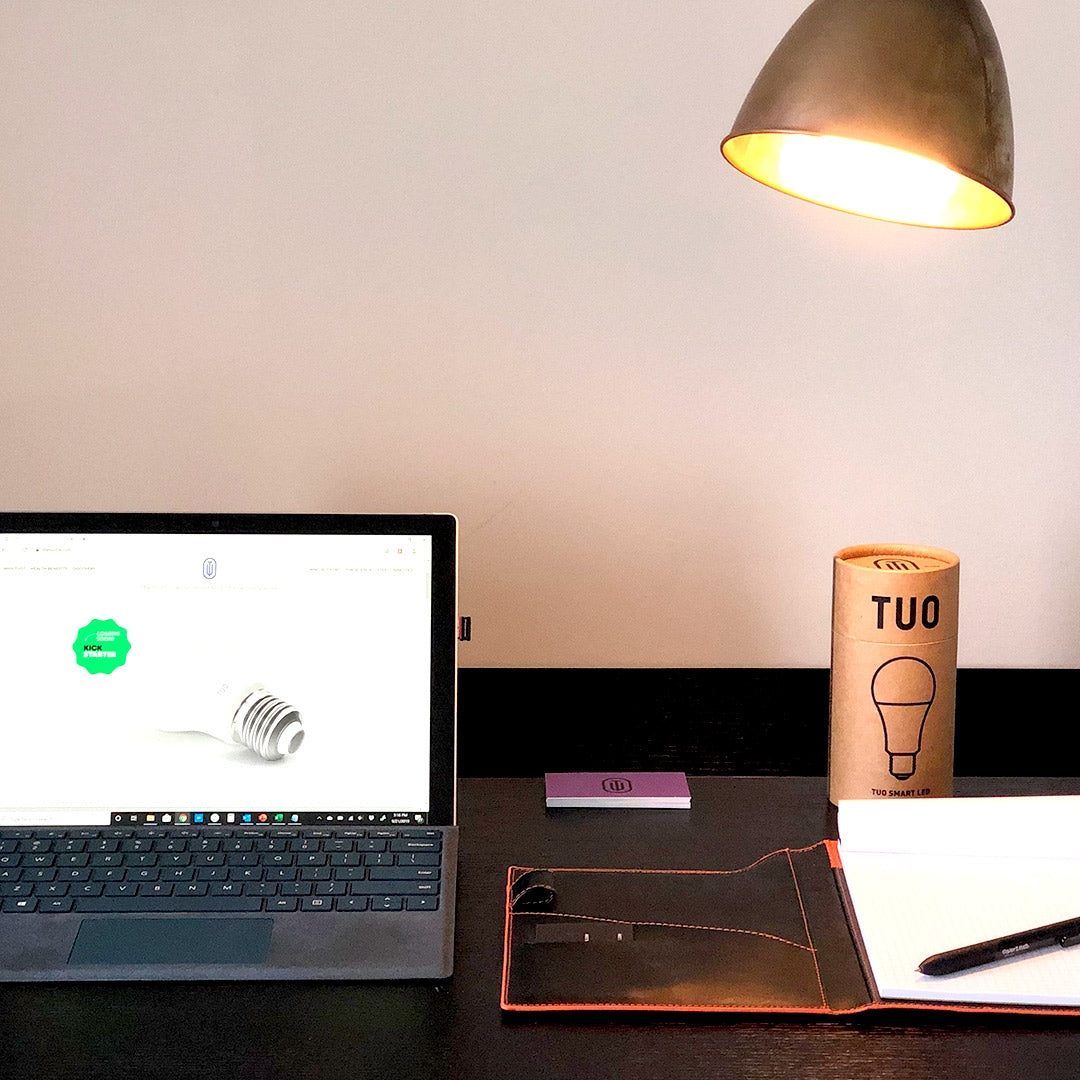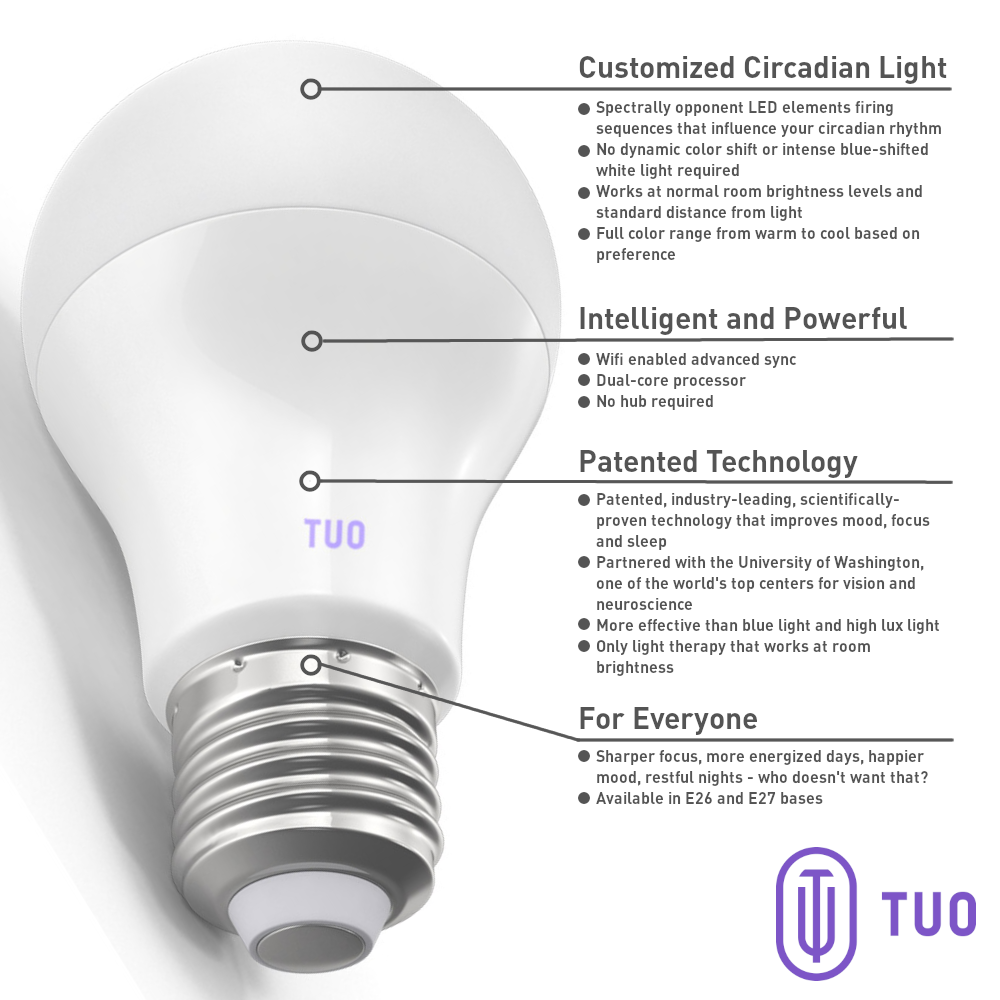 Advanced Circadian Lighting.  Patented, industry-leading, UV-free technology designed to deliver the light that your body needs at the right times and durations based on your current sleep patterns. Based on new science discovered by the University of Washington, one of the world's top vision and neuroscience centers.
Wake Up and Go to Sleep More Naturally.  Customized schedules to wake up and wind down with fade on and off ability to wake up like you're waking to the rising sun.  Ability to change light brightness from 5-100% and color from cool to soft based on your preferences.
Improved Circadian Health.  Enjoy more energized days, more restful nights, happier mood and sharper focus.
Satisfaction Guaranteed.  If you're unsatisfied for any reason, just return your bulbs within 30 days for a full refund. See details here.
Two-Year Limited Warranty.
Free Shipping on US Orders Over $100.
10% Discount for Those Who Serve. See details here.
Compatible with iOS and Android.  Download the app today.
TUO Users Love Their Circadian Smart Bulbs
Rob, Chicago
"The TUO light has been a great addition to my daily routine. I find it easier to wake up and get started in my mornings, especially after a late night when I didn't get as much sleep as I would have liked."
Andrew, Minneapolis
"The TUO bulb has been a great addition to my daily routine. I'm sharper during my morning commute and sleeping better throughout the night. I have waited a long time for technology like this to come around. Thanks, TUO!"
Angie, Colorado
"I work remotely from my team on the east coast and have daily 5am meetings. The TUO bulb is not like a 5 hour energy, but after 2 weeks I get up on time easily and ready to lead my team with more energy than before."
Debunking Blue Light
Most light therapy products on the market today are based on blue light. This is 15-year-old science that has since been proven incorrect. New science based on laboratory research conducted by the University of Washington, one of the world's top vision and neuroscience centers, shows that blue light has little to no effect in shifting your circadian rhythm. High brightness levels of blue light can have some effect, but this falls short when compared to the power of TUO.
What's Wrong with High Lux?
High lux products can work, but they require 10,000 lux of light at a distance of under 2 feet for the duration of treatment. This light level at this distance is uncomfortable for most people. Treatment also needs to happen first thing in the morning to be most effective. Who has time to sit within 2 feet of a bulb for up to a half hour when first waking up? High lux products offer dim settings to make use more comfortable and typically downplay the distance requirement. Unfortunately, at less than 10,000 lux and 2 feet of distance, high lux products have little to no impact.
What Makes TUO the Only Solution that Works in Real-World Conditions?
TUO uses alternating light sequences to affect highly-sensitive parts of your vision center while still displaying standard lighting colors. This is the patented magic that makes TUO tick and is why TUO is more effective than anything on the market today. Because of this, TUO is also the only circadian light therapy product that works at normal brightness levels and a reasonable distance.
Put TUO bulbs in your bedroom to get exposure when first waking. Put TUO bulbs in your bathroom to get exposure during your normal morning routine. Put TUO bulbs in your kitchen, and make your family breakfast while getting exposure. Put TUO bulbs on your desk, and check email while taking in light. With TUO, you need to stay within 6 feet of your light during the majority of your Wake mode. After that, you don't need to worry. Just continue with your daily routine, and get the light that you need.
Learn more about our science.
Check out the University of Washington paper.
Getting Started Is Easy
Download the iOS or Android App, turn on your bulb and then follow the on-screen instructions to sign up and add your first bulb. Check out our getting started page for more info on first use and general tips.
Once your bulb is added, The TUO Life App will deliver the right light mode at the right time of day to energize your mind and body. All you have to do is turn on the lights. 
Our morning WAKE mode will give you a boost of energy to kickstart your day. 
Our all-day ACTIVE mode will keep your focus sharp througout the day. 
Our evening CALM mode will help you wind down and fall asleep naturally.